7 Tips to preparation for a job interview online
7 Tips to preparation for a job interview online
It's commonplace for job interviews to take place online these days. Employers often choose to conduct interviews online for a variety of reasons. Because they don't have to pay for a job fair or for candidates to travel to the company, online interviews help businesses save money.
Additionally, job seekers gain since online interviews can be less stressful than in-person ones and save time on travel.
Although the interview will be in your comfortable home, you should still be well-prepared and knowledgeable about the many styles of online job interviews. You'll be able to think quickly and perform better throughout the interview if you do this.
What you should know is as follows.
Job interviews in videos
The webcam interview is the most prevalent type of online interview. The interviewer will just do the interview through video rather than requiring you to come to their office. You'll probably be required to use your camera because webcams are typically embedded into laptops and tablets. You should normally be able to utilize a smartphone if you don't have a laptop.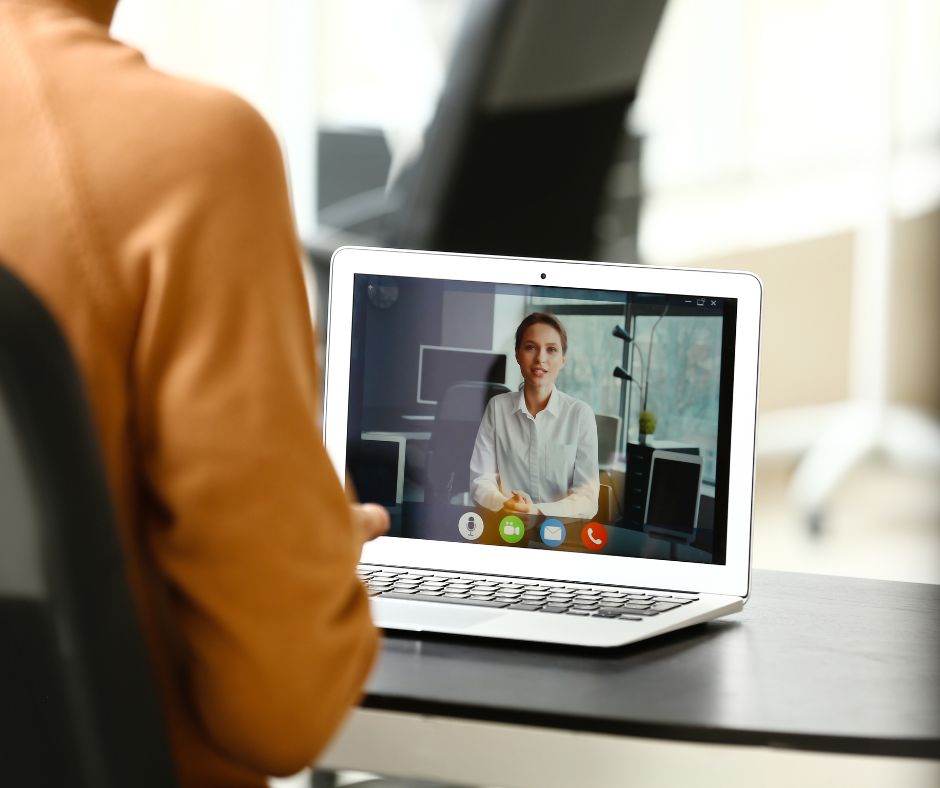 Frequently, the interviewer will use well-known video conferencing tools like Google Hangouts, Zoom, or Skype.
Download the software ahead of time if you don't already have it. Make sure it functions well and that you have no technical problems after that. Verify that you have the most recent update if you already have the software installed.
Online Interview Types
Some organizations use web-based interviewing platforms that allow for both in-depth live interviews with split-screen candidates and recorded interviews via webcam.
Employers may occasionally email you a list of interview questions and request that you record your responses before they conduct the actual interview.
Become accustomed to the setup
Practice with a buddy beforehand, regardless of the format or technology that will be used.
You should choose a favorable perspective and get comfortable making "eye contact" with the interviewer while on camera. Instead of staring into the camera, newcomers frequently fixate on the portion of the window that displays their own video image, which might appear strange and uninteresting.
Ways to Get Ready for an Interview
Keep in mind that virtual interviews are just as crucial as in-person ones. If the employer conducts all interviews online, your interview could advance you to the next stage or possibly result in a job offer.
How to prepare for your interview is as follows:
To give yourself time to become acclimated to the software, download it in advance.
If it's available, choose a professional username, such as a variant of your own name as it appears on your résumé.
Even if you are seated, dress professionally. You never know when you might need to stand up, so put on a beautiful pair of jeans and shoes. Additionally, dressing the role will assist you in getting into the game.
To prevent clutter from appearing on the screen, clean your workplace and anything that may be in the way behind you. You don't want the interviewer to get sidetracked by background noise or think that your messy workspace is an indication of how you'd operate as an employee.
Make sure you are in a calm place where you won't be interrupted by other people, animals, etc. Your ringer, any alarms, and any other devices that can distract you should be turned off. Make your family and roommates aware of your interview plans so they can maintain silence and handle any unforeseen circumstances (like an unexpected doorbell).
So that you don't have to fumble around later to get a piece of paper and a pen, have them ready.
Keep a copy of your resume within easy reach in case you need to refer to any numbers, dates, or work titles.
Advice for Getting a Job Interview:
Practice using your webcam equipment before the interview to make sure everything is in working order and that you feel comfortable having a video interview.
When participating in a face-to-face interview, appear normally and try to smile.
Talk clearly and slowly.
Look directly at the camera, pay attention, and interact with the interviewer.
Waiting for your turn to speak is not enough.
Even if you are not speaking to anyone directly during a self-recorded interview, make sure to smile and keep up a warm "eye contact" with the camera.
It's easy to speak hastily and appear agitated and confused during a self-paced interview. Draw a deep breath. Although it can seem like you're speaking too slowly, you're probably speaking at the right pace.